Santina
is really addicted to
Ovalteenies
. I have to keep asking my mom who
lives
in CA to buy her
Ovalteenies
. She buys us the boxes & San goes through them pretty quickly. They are pretty good. James friend Max is also now addicted to it and have to hide the rest of the
Ovalteenies
when he's over or he'll go through several packets of them.
from
wikipedia
:
Ovalteenies
are round sweets made of compressed
ovaltine
. They are popular with children in Australia. At one point faces were imprinted onto the candies. They are still sold in many
canteens
in Australian schools.
Now if I can only get my hands on some
Horlicks
tablets, I loved it when I was little, esp. the chocolate flavor ones. It's not that easy to find & pretty pricey to get online but maybe I'll order some soon for the nostalgia kick.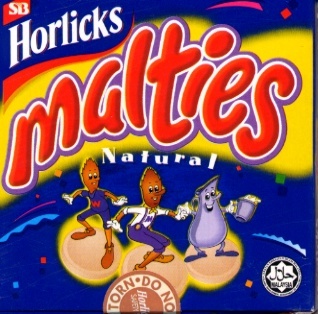 wikipedia
:
Horlicks
is the name of a company and a malted milk hot drink claimed to promote sleep when drunk at bedtime. It is manufactured by
GlaxoSmithKline
in the United Kingdom, India and Jamaica. In some countries, such as the
Philippines
and
Malaysia
,
Horlicks
was also sold as milky-chocolate-flavored disks in paper packets, which were then eaten as candy.
And of course I still love Nestle Milo, it used to come with little wrapped toys or games inside them and my brother and I will always try to get to it first. I also just love to eat the mix & not necessarily mix it in a drink form. The reason I got addicted to Java Chip
Frappaccino
with malt last summer was because it tasted so much like Milo.
mmmm
.
wikipedia
: Milo is a
milk
beverage with
chocolate
and
malt
, produced by
Nestlé
and originating from
Australia
. Milo is supposedly high in
energy
, because the drink has 1,760
kJ
in every 100
g
of the drink. It is also for this reason that it is also marketed as the "Energy Food Drink". It is also supposed to have a low
Glycemic

Index
(GI), that is, "33 made with whole milk, 36 made with reduced fat milk". This lets the energy stored in Milo be released slowly throughout the day. The Milo website states that the drink "is high in calcium, iron and the vitamins B1, 2, 6, 12."